Lately many of my projects have required data logging of at least ambient temperature. So I have put together a base board to build from. The board has the following components:
DS1337C (RTC) with a backup battery
LM34
SERIAL(USART)
USB
SD card
A few extra pins for external circuitry
18F2550 with a 4 MHz resonator running at 48 MHz
In practice data is saved to the SD card along with a time and date stamp. The USB port is used for real time system monitoring if needed. Normal operation feed back is from one LED.
To set this up Darrel's Instant Interrupts will be needed. Thanks Darrel!!
http://www.picbasic.co.uk/forum/showthread.php?t=3251
SD card routines are from
http://melabs.com/samples/PBP-mixed/sdfs3.htm
for SD cards up to 2GB.
The USB will need six files copied from the PBP\USB18 directory to the project directory. This is for PBP 2.60, if another version of PBP is used the files will be different and not covered here.
cdc_desc.bas
usb_scd.asm
usb_cdc.inc
usb_dev.asm
usb_dev.inc
usb_mem.asm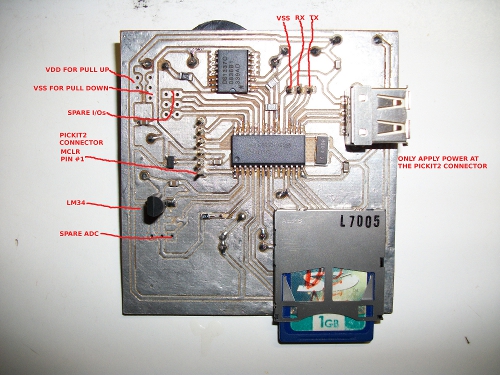 click on schematic to view if it is to large here.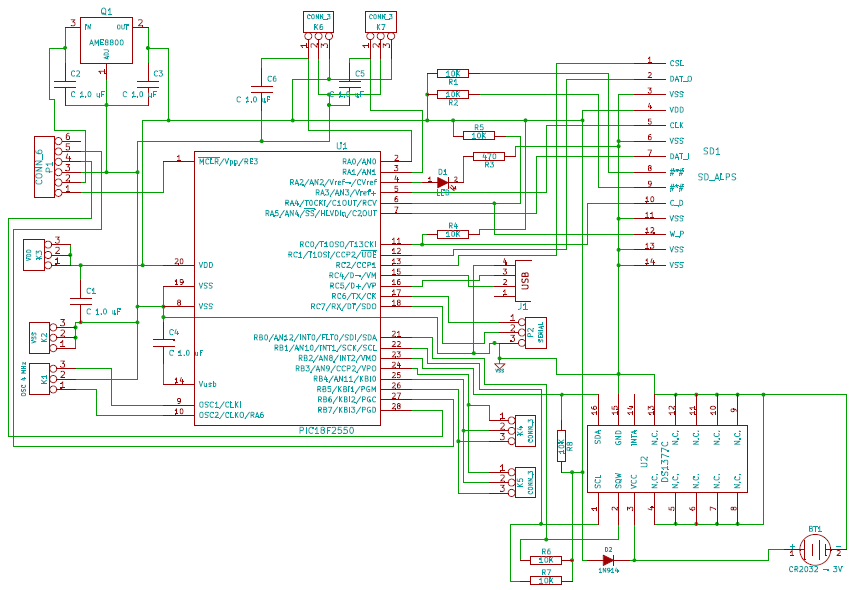 The first block of code does not write to the SD card. It is for testing the USB and RTC. The LED is a "heart beat" on this one.
The second code has the SD routines added in. Along with the SD routines some more feed back has been added.
If a SD card is not present the USB will still output the time, date, temperature, and now "NO CARD".
The LED will blink as a 1 Hz heart beat as the first code if a card is present and the card is not being written. If the card is being written to then the the LED blink will be faster and dimmer. Do not remove the SD card while it is being written to.
If the SD card is not present then the LED will be off.
Code:
    '<FL_PIC18F2550>'
    '<FL_PBPW>'
    DEFINE OSC 48
    @ __CONFIG   _CONFIG1L, _PLLDIV_1_1L & _CPUDIV_OSC1_PLL2_1L & _USBDIV_2_1L
    @ __CONFIG   _CONFIG1H, _FOSC_HSPLL_HS_1H
    @ __CONFIG   _CONFIG2H, _WDT_OFF_2H & _WDTPS_512_2H
    @ __CONFIG   _CONFIG2L, _PWRT_ON_2L & _VREGEN_ON_2L
    @ __CONFIG   _CONFIG3H, _PBADEN_OFF_3H & _MCLRE_OFF_3H
    @ __CONFIG   _CONFIG4L, _LVP_OFF_4L & _XINST_OFF_4L
    INCLUDE "cdc_desc.bas"
    INCLUDE "DT_INTS-18.bas"
    INCLUDE "ReEnterPBP-18.bas"
     ASM
INT_LIST  macro    ; IntSource,        Label,  Type, ResetFlag?
        INT_Handler   INT_INT,  _CNT_PLUS,   PBP,  yes
        INT_Handler   USB_INT,  _SERVICE_USB,  ASM,  yes
    endm
    INT_CREATE               ; Creates the interrupt processor
ENDASM
'#########
'START USB AND INTERRUPTS
    PAUSE 100           'TIME TO SETTLE
    USBINIT             'INITIALIZE USB
    USBSERVICE          'SERVICE USB
    UIE = $7F           'ENABLE USB INTERRUPTS
    UEIE = $9F          'ENABLE USB ERROR INTERRUPTS
    PAUSE 500           'MORE TIME
    USBINIT
    USBSERVICE
    @   INT_ENABLE  USB_INT
    USBSERVICE
    @ INT_ENABLE  INT_INT
'#########
'VARs AND DEFINEs
    ADCON1 = 001110
    LED      VAR PORTA.2
    TEXT_TIME VAR BYTE[6]
    TEXT_DATE VAR BYTE[6]
    TEXT_TEMP VAR BYTE[8]
    B0       VAR BYTE
    B1       VAR BYTE
    CNT VAR     WORD
    CRON VAR BYTE[11]
    CRON_D VAR BYTE[11]
    SPACE VAR BYTE[2]
    T_BUFFER   VAR BYTE[8]
    T_ONES   VAR    BYTE
    T_TENS   VAR    BYTE
    T_HUNS   VAR    BYTE
    OUT_TEMP VAR BYTE
    ADC_TEMP VAR WORD
    S_TEMP   VAR BYTE
    X_TEMP   VAR BYTE
'RTC DEFINES
    DS_SCL      VAR     PORTB.1    'CLOCK
    DS_SDA      VAR     PORTB.2    'DATA
    RTC CON     010000
    SEC_REG CON $00
    CONT_REG CON $0E
    CNTRL CON 000000 
'RTC VARS
    sec VAR BYTE: mins VAR BYTE: hr VAR BYTE: day VAR BYTE
    date VAR BYTE: mon VAR BYTE: yr VAR BYTE
'RTC DEC VARS
     SEC_O VAR BYTE: SEC_T VAR BYTE: MIN_O VAR BYTE: MIN_T VAR BYTE
     HR_O VAR BYTE: HR_T VAR BYTE: MON_O VAR BYTE: MON_T VAR BYTE
     DATE_O VAR BYTE: DATE_T VAR BYTE: YR_O VAR BYTE: YR_T VAR BYTE
'#########
'SETS THE RTC TO PULSE OUT AT 1HZ
    I2CWRITE DS_SDA, DS_SCL, RTC, CONT_REG, [CNTRL]
'BUILD SOME USB TEXT
    FOR B0 = 0 TO 5
    LOOKUP B0,[" TIME "],B1
    TEXT_TIME(B0) = B1
    NEXT B0
    FOR B0 = 0 TO 5
    LOOKUP B0,[" DATE "],B1
    TEXT_DATE(B0) = B1
    NEXT B0
    FOR B0 = 0 TO 7
    LOOKUP B0,[" TEMP F "],B1
    TEXT_TEMP(B0) = B1
    NEXT B0
    SPACE[0] = $d
    SPACE[1] = $a
'#########
'IF THE RTC NEEDS SET GOTO THE SET_RTC ROUTINE AND
'ENTER THE TIME AND DATE. RUN THE CODE ONCE THEN RE-COMMENT.
          'GOSUB SET_RTC
'#########
'MAIN PROGRAM
    CHECK:
    IF CNT >= 60 THEN 'NUMBER OF SECONDS
    CNT = 0
    GOSUB GET_T
    GOSUB READ_RTC
    GOSUB USB_DISPLAY
    ENDIF
    GOTO CHECK
'#########
'#########
'ISRs
    CNT_PLUS:
         TOGGLE LED
         CNT = CNT + 1
    @ INT_RETURN
    
    SERVICE_USB:
        USBSERVICE
    @   INT_RETURN
'#########
    SET_RTC:
    yr = $10
    mon = $10
    date = $09
    sec = $00
    mins = $52
    hr = $02
    I2CWRITE DS_SDA, DS_SCL, RTC, SEC_REG, [sec,mins,hr,day,date,mon,yr]
    RETURN
'#########
    READ_RTC:
    I2CREAD DS_SDA, DS_SCL, RTC, SEC_REG, [sec,mins,hr,day,date,mon,yr]
    
    SEC_T = sec & $70
    SEC_T = SEC_T>>4
    SEC_O = sec & $0F
    
    MIN_T = mins & $70
    MIN_T = MIN_T>>4
    MIN_O = MINs & $0F
    
    HR_T = hr & $70
    HR_T = HR_T>>4
    HR_O = hr & $0F
    
    MON_T = mon & $70
    MON_T = MON_T>>4
    MON_O = mon & $0F
    
    DATE_T = date & $70
    DATE_T = DATE_T>>4
    DATE_O = date & $0F
    
    YR_T = yr & $70
    YR_T = YR_T>>4
    YR_O = yr & $0F

    CRON[0] = " "
    CRON[1] = $30+HR_T
    CRON[2] = $30+HR_O
    CRON[3] = ":"
    CRON[4] = $30+MIN_T
    CRON[5] = $30+MIN_O
    CRON[6] = ":"
    CRON[7] = $30+SEC_T
    CRON[8] = $30+SEC_O
    CRON[9] = $d
    CRON[10] = $a

    CRON_D[0] = " "
    CRON_D[1] = $30+MON_T
    CRON_D[2] = $30+MON_O
    CRON_D[3] = "/"
    CRON_D[4] = $30+DATE_T
    CRON_D[5] = $30+DATE_O
    CRON_D[6] = "/"
    CRON_D[7] = $30+YR_T
    CRON_D[8] = $30+YR_O
    CRON_D[9] = $d
    CRON_D[10] = $a
    RETURN
'#########
    GET_T:
    ADC_TEMP = 0
    FOR X_TEMP = 1 TO 20
    ADCON0=00000001
    GOSUB READ_AD
    S_TEMP = ADRESH
    ADC_TEMP = ADC_TEMP + S_TEMP
    PAUSE 250
    NEXT X_TEMP
    OUT_TEMP = ADC_TEMP / 20
    OUT_TEMP = OUT_TEMP * 13/10
    T_HUNS = OUT_TEMP/100
    T_TENS = (OUT_TEMP - T_HUNS * 100)/10
    T_ONES = OUT_TEMP-((T_HUNS*100)+(T_TENS*10))
    T_BUFFER[0] = $30+T_HUNS
    T_BUFFER[1] = $30+T_TENS
    T_BUFFER[2] = $30+T_ONES
    T_BUFFER[3] = " "
    T_BUFFER[4] = " "
    T_BUFFER[5] = " "
    T_BUFFER[6] = $d
    T_BUFFER[7] = $a
    RETURN

    READ_AD:
    PAUSE 50
    ADCON0.1=1
    WHILE ADCON0.2=1:WEND
    RETURN
'#########
    USB_DISPLAY:
    PAUSE 1
    USBOUT 3, SPACE, 2, CHECK
    PAUSE 1
    USBOUT 3, TEXT_TIME, 6, CHECK
    PAUSE 1
    USBOUT 3, CRON, 11, CHECK
    PAUSE 1
    USBOUT 3, TEXT_DATE, 6, CHECK
    PAUSE 1
    USBOUT 3, CRON_D, 11, CHECK
    PAUSE 1
    USBOUT 3, TEXT_TEMP, 8, CHECK
    PAUSE 1
    USBOUT 3, T_BUFFER, 8, CHECK
    PAUSE 1
    RETURN
Code:
    '<FL_PIC18F2550>'
    '<FL_PBPL>'
    DEFINE OSC 48
    @ __CONFIG   _CONFIG1L, _PLLDIV_1_1L & _CPUDIV_OSC1_PLL2_1L & _USBDIV_2_1L
    @ __CONFIG   _CONFIG1H, _FOSC_HSPLL_HS_1H
    @ __CONFIG   _CONFIG2H, _WDT_OFF_2H & _WDTPS_512_2H
    @ __CONFIG   _CONFIG2L, _PWRT_ON_2L & _VREGEN_ON_2L
    @ __CONFIG   _CONFIG3H, _PBADEN_OFF_3H & _MCLRE_OFF_3H
    @ __CONFIG   _CONFIG4L, _LVP_OFF_4L & _XINST_OFF_4L

        ' Alias PIC pins and registers for SD/MMC card
    SD_WE        VAR    PORTA.4    ' SD card write protect
    SD_WE_TRIS   VAR    TRISA.4    ' SD card write protect direction
    SDI          VAR    PORTA.5    ' SPI data in SD #7
    SDI_TRIS     VAR    TRISA.5    ' SPI data in direction
    SCL          VAR    PORTA.3    ' SPI clock  SD #5
    SCL_TRIS     VAR    TRISA.3    ' SPI clock direction
    SD_CS        VAR    PORTC.2    ' SD card chip select SD #1
    SD_CS_TRIS   VAR    TRISC.2    ' SD card chip select direction
    SD_CD        VAR    PORTC.0    ' SD card detect
    SD_CD_TRIS   VAR    TRISC.0    ' SD card detect direction
    SDO          VAR    PORTC.1    ' SPI data out   SD #2
    SDO_TRIS     VAR    TRISC.1    ' SPI data out direction
    INCLUDE "SDFS.BAS"
    SDC_UseHardSPI = FALSE    ' Use hardware SSP port for SPI.
    INCLUDE "cdc_desc.bas"
    INCLUDE "DT_INTS-18.bas"
    INCLUDE "ReEnterPBP-18.bas"
     ASM
INT_LIST  macro    ; IntSource,        Label,  Type, ResetFlag?
        INT_Handler   INT_INT,  _CNT_PLUS,   PBP,  yes
        INT_Handler   USB_INT,  _SERVICE_USB,  ASM,  yes
    endm
    INT_CREATE               ; Creates the interrupt processor
ENDASM
'#########
'START USB AND INTERRUPTS
    PAUSE 100           'TIME TO SETTLE
    USBINIT             'INITIALIZE USB
    USBSERVICE          'SERVICE USB
    UIE = $7F           'ENABLE USB INTERRUPTS
    UEIE = $9F          'ENABLE USB ERROR INTERRUPTS
    PAUSE 500           'MORE TIME
    USBINIT
    USBSERVICE
    @   INT_ENABLE  USB_INT
    USBSERVICE
    @ INT_ENABLE  INT_INT
'#########
'VARs AND DEFINEs
    ADCON1 = 001110
    LED      VAR PORTA.2
    TEXT_TIME VAR BYTE[6]
    TEXT_DATE VAR BYTE[6]
    TEXT_TEMP VAR BYTE[8]
    TEXT_NO_CARD VAR BYTE[9]
    MAC_FileName VAR BYTE[11]
    B0       VAR BYTE
    B1       VAR BYTE
    CNT VAR     WORD
    CIU VAR     BYTE 'CARD IN USE
    CRON VAR BYTE[11]
    CRON_D VAR BYTE[11]
    SPACE VAR BYTE[2]
    T_BUFFER   VAR BYTE[8]
    T_ONES   VAR    BYTE
    T_TENS   VAR    BYTE
    T_HUNS   VAR    BYTE
    OUT_TEMP VAR BYTE
    ADC_TEMP VAR WORD
    S_TEMP   VAR BYTE
    X_TEMP   VAR BYTE
'RTC DEFINES
    DS_SCL      VAR     PORTB.1    'CLOCK
    DS_SDA      VAR     PORTB.2    'DATA
    RTC CON     010000
    SEC_REG CON $00
    CONT_REG CON $0E
    CNTRL CON 000000
'RTC VARS
    sec VAR BYTE: mins VAR BYTE: hr VAR BYTE: day VAR BYTE
    date VAR BYTE: mon VAR BYTE: yr VAR BYTE
'RTC DEC VARS
     SEC_O VAR BYTE: SEC_T VAR BYTE: MIN_O VAR BYTE: MIN_T VAR BYTE
     HR_O VAR BYTE: HR_T VAR BYTE: MON_O VAR BYTE: MON_T VAR BYTE
     DATE_O VAR BYTE: DATE_T VAR BYTE: YR_O VAR BYTE: YR_T VAR BYTE
'SD CARD FILE
     FILE_seconds VAR BYTE: FILE_minutes VAR BYTE: FILE_hours VAR BYTE
     FILE_day VAR BYTE: FILE_month VAR BYTE: FILE_year VAR BYTE
'#########
'SETS THE RTC TO PULSE OUT AT 1HZ
    I2CWRITE DS_SDA, DS_SCL, RTC, CONT_REG, [CNTRL]
'SETS FILE NAME TO THE TIME BOARD IS POWERED
    GOSUB READ_RTC
    MAC_FileName[0] = $30+HR_T
    MAC_FileName[1] = $30+HR_O
    MAC_FileName[2] = $30+MIN_T
    MAC_FileName[3] = $30+MIN_O
    MAC_FileName[4] = $30+SEC_T
    MAC_FileName[5] = $30+SEC_O
    MAC_FileName[6] = " "
    MAC_FileName[7] = " "
    MAC_FileName[8] = "T"
    MAC_FileName[9] = "X"
    MAC_FileName[10] = "T"
'BUILD SOME USB TEXT
    FOR B0 = 0 TO 5
    LOOKUP B0,[" TIME "],B1
    TEXT_TIME(B0) = B1
    NEXT B0
    FOR B0 = 0 TO 5
    LOOKUP B0,[" DATE "],B1
    TEXT_DATE(B0) = B1
    NEXT B0
    FOR B0 = 0 TO 7
    LOOKUP B0,[" TEMP F "],B1
    TEXT_TEMP(B0) = B1
    NEXT B0
    SPACE[0] = $d
    SPACE[1] = $a
    FOR B0 = 0 TO 9
    LOOKUP B0,[" NO CARD",$d,$a],B1
    TEXT_NO_CARD(B0) = B1
    NEXT B0
'#########
'IF THE RTC NEEDS SET GOTO THE SET_RTC ROUTINE AND
'ENTER THE TIME AND DATE. RUN THE CODE ONCE THEN RE-COMMENT.
          'GOSUB SET_RTC
'#########
'MAIN PROGRAM
    CHECK:
    IF CNT >= 60 THEN 'NUMBER OF SECONDS
    CNT = 0
    GOSUB GET_T
    GOSUB READ_RTC
    GOSUB USB_DISPLAY

    IF (SD_WE = 0) AND (SD_CD = 0)  THEN
    GOTO SD_WRITE
    ELSE
    PWM LED,25,250
    USBOUT 3, TEXT_NO_CARD, 10, CHECK
    PAUSE 500
    ENDIF
    ENDIF
    GOTO CHECK
'#########
'#########
'ISRs
    CNT_PLUS:
         IF CIU = 1 THEN
         PWM LED,75,250
         ELSE
         IF (SD_WE = 0) AND (SD_CD = 0)  THEN
         TOGGLE LED
         ELSE
         LOW LED
         ENDIF
         ENDIF
         CNT = CNT + 1
    @ INT_RETURN

    SERVICE_USB:
        USBSERVICE
    @   INT_RETURN
'#########
    SET_RTC:
    yr = $10
    mon = $10
    date = $09
    sec = $00
    mins = $52
    hr = $02
    I2CWRITE DS_SDA, DS_SCL, RTC, SEC_REG, [sec,mins,hr,day,date,mon,yr]
    RETURN
'#########
    READ_RTC:
    I2CREAD DS_SDA, DS_SCL, RTC, SEC_REG, [sec,mins,hr,day,date,mon,yr]

    SEC_T = sec & $70
    SEC_T = SEC_T>>4
    SEC_O = sec & $0F

    MIN_T = mins & $70
    MIN_T = MIN_T>>4
    MIN_O = MINs & $0F

    HR_T = hr & $70
    HR_T = HR_T>>4
    HR_O = hr & $0F

    MON_T = mon & $70
    MON_T = MON_T>>4
    MON_O = mon & $0F

    DATE_T = date & $70
    DATE_T = DATE_T>>4
    DATE_O = date & $0F

    YR_T = yr & $70
    YR_T = YR_T>>4
    YR_O = yr & $0F

    CRON[0] = " "
    CRON[1] = $30+HR_T
    CRON[2] = $30+HR_O
    CRON[3] = ":"
    CRON[4] = $30+MIN_T
    CRON[5] = $30+MIN_O
    CRON[6] = ":"
    CRON[7] = $30+SEC_T
    CRON[8] = $30+SEC_O
    CRON[9] = $d
    CRON[10] = $a

    CRON_D[0] = " "
    CRON_D[1] = $30+MON_T
    CRON_D[2] = $30+MON_O
    CRON_D[3] = "/"
    CRON_D[4] = $30+DATE_T
    CRON_D[5] = $30+DATE_O
    CRON_D[6] = "/"
    CRON_D[7] = $30+YR_T
    CRON_D[8] = $30+YR_O
    CRON_D[9] = $d
    CRON_D[10] = $a

    FILE_seconds = (SEC_T*10)+SEC_O
    FILE_minutes = (MIN_T*10)+MIN_O
    FILE_hours = (HR_T*10)+HR_O
    FILE_day = (DATE_T*10)+DATE_O
    FILE_month = (MON_T*10)+MON_O
    FILE_year = (YR_T*10)+YR_O
    RETURN
'#########
    GET_T:
    ADC_TEMP = 0
    FOR X_TEMP = 1 TO 20
    ADCON0=00000001
    GOSUB READ_AD
    S_TEMP = ADRESH
    ADC_TEMP = ADC_TEMP + S_TEMP
    PAUSE 250
    NEXT X_TEMP
    OUT_TEMP = ADC_TEMP / 20
    OUT_TEMP = OUT_TEMP * 13/10
    T_HUNS = OUT_TEMP/100
    T_TENS = (OUT_TEMP - T_HUNS * 100)/10
    T_ONES = OUT_TEMP-((T_HUNS*100)+(T_TENS*10))
    T_BUFFER[0] = $30+T_HUNS
    T_BUFFER[1] = $30+T_TENS
    T_BUFFER[2] = $30+T_ONES
    T_BUFFER[3] = " "
    T_BUFFER[4] = " "
    T_BUFFER[5] = " "
    T_BUFFER[6] = $d
    T_BUFFER[7] = $a
    RETURN

    READ_AD:
    PAUSE 50
    ADCON0.1=1
    WHILE ADCON0.2=1:WEND
    RETURN
'#########
    USB_DISPLAY:
    PAUSE 1
    USBOUT 3, SPACE, 2, CHECK
    PAUSE 1
    USBOUT 3, TEXT_TIME, 6, CHECK
    PAUSE 1
    USBOUT 3, CRON, 11, CHECK
    PAUSE 1
    USBOUT 3, TEXT_DATE, 6, CHECK
    PAUSE 1
    USBOUT 3, CRON_D, 11, CHECK
    PAUSE 1
    USBOUT 3, TEXT_TEMP, 8, CHECK
    PAUSE 1
    USBOUT 3, T_BUFFER, 8, CHECK
    PAUSE 1
    RETURN
'#########
'SD CARD ROUTINES
    SD_WRITE:
    CIU = 1
    SDINIT:
    ' FSInit initializes the card and reads all the preliminary information from it
    GOSUB FSInit
    IF (FAT_error != 0) THEN STOP

    ' Display card directory
    GOSUB FINDfirst     ' Find first file on card
    WHILE (FAT_error = 0)
        GOSUB FINDnext  ' Find next file on card
    WEND

    SDFILENAME:
    ' This section defines a specific short (8.3) filename
    ' Note that spaces are use in empty elements and must be upper case for Windows
    FAT_FileName[0] = MAC_FileName[0]
    FAT_FileName[1] = MAC_FileName[1]
    FAT_FileName[2] = MAC_FileName[2]
    FAT_FileName[3] = MAC_FileName[3]
    FAT_FileName[4] = MAC_FileName[4]
    FAT_FileName[5] = MAC_FileName[5]
    FAT_FileName[6] = MAC_FileName[6]
    FAT_FileName[7] = MAC_FileName[7]
    FAT_FileName[8] = MAC_FileName[8]
    FAT_FileName[9] = MAC_FileName[9]
    FAT_FileName[10] = MAC_FileName[10]

    FAT_seconds = FILE_seconds
    FAT_minutes = FILE_minutes
    FAT_hours = FILE_hours
    FAT_day = FILE_day
    FAT_month = FILE_month
    FAT_year = FILE_year+20

    SDOPEN_W:
    ' Open a file for write
    FAT_mode = "A"      ' Write mode APPEND
    GOSUB FSfopen   ' Open file pointed to by Byte array FAT_FileName
    IF (FAT_error = 10) THEN STOP

    SD_WRITE_FILE:
    ' Write to file
    FAT_src[0] = "T"
    FAT_src[1] = "I"
    FAT_src[2] = "M"
    FAT_src[3] = "E"
    FAT_src[4] = $d
    FAT_src[5] = $a
    FAT_src[6] = $30+HR_T
    FAT_src[7] = $30+HR_O
    FAT_src[8] = ":"
    FAT_src[9] = $30+MIN_T
    FAT_src[10] = $30+MIN_O
    FAT_src[11] = ":"
    FAT_src[12] = $30+SEC_T
    FAT_src[13] = $30+SEC_O
    FAT_src[14] = $d
    FAT_src[15] = $a
    FAT_src[16] = "D"
    FAT_src[17] = "A"
    FAT_src[18] = "T"
    FAT_src[19] = "E"
    FAT_src[20] = $d
    FAT_src[21] = $a
    FAT_src[22] = $30+MON_T
    FAT_src[23] = $30+MON_O
    FAT_src[24] = ":"
    FAT_src[25] = $30+DATE_T
    FAT_src[26] = $30+DATE_O
    FAT_src[27] = ":"
    FAT_src[28] = $30+YR_T
    FAT_src[29] = $30+YR_O
    FAT_src[30] = $d
    FAT_src[31] = $a
    FAT_src[32] = " "
    FAT_src[33] = $30+T_HUNS
    FAT_src[34] = $30+T_TENS
    FAT_src[35] = $30+T_ONES
    FAT_src[36] = " "
    FAT_src[37] = "F"
    FAT_src[38] = $d
    FAT_src[39] = $a
    FAT_src[40] = $d
    FAT_src[41] = $a
    FAT_count = 42
    GOSUB FSfwrite

    IF (FAT_error = 10) THEN STOP
    IF (FAT_error != 0) THEN STOP

    SDCLOSE:
    ' Close file
    GOSUB FSfclose
    IF (FAT_error != 0) THEN STOP
    PAUSE 5000
    CIU = 0
    GOTO CHECK